Le Carbonaie camping is the right place if you want to give an enviromental and sustainable footprint to your holidays. Our camping is, in fact, built around the respect for the enviroment, the recycle, the reutilization and the energy saving.
The solar energy
In our camping, hot water is provide using solar energy and the electrical supplies are garanteed by the new photovoltaic system installed on the roof of one of the buildings. This choice as been made as a natural consequance of our work.The decision of using renewable energies is consistent with the main activities of our farm such as the sustainable lumberjacking and the production and storage of wood chips and forestal biomasses (a natural tresure that our mountains give us, as well as a chance for a new economical development in the surrounding area, who can lead to the creation of new "green" jobs). Both the paths and the lavatories' lighting is provide by eco-save bulbs.
Every building have been realized in order to feats the real needs of our guests but without forgetting the enviroment (for example, all the building are disposed in a North-South direction. This helps to optimize the exposure and suits the hot water and photovoltaic needs according to the seasons).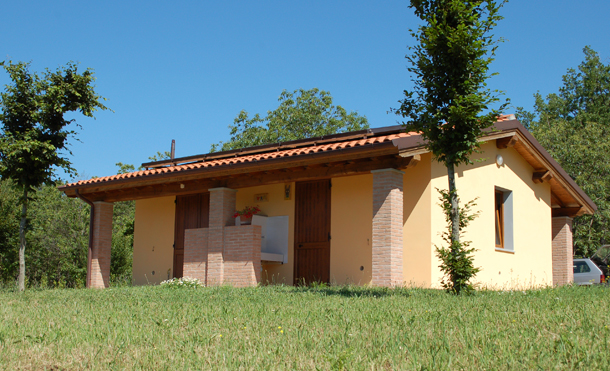 Recycling
Recycle bins are located close to the lavatories' building. There you can find litters for the separate collection of the rubbish (paper, glass, plastic etc.) and a compost bin. Our aim is to give to our guests the chance to put recycling in practice in the most effective way.
Water and sanitary system
The drinking water is provide by the connection to the public water system. The waste water, as well as the rain water, are treated in order to be reused to irrigate the gardens.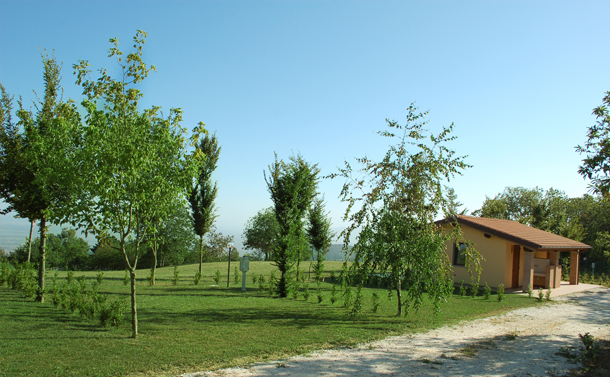 The lavatories' area
The lavatories are divided in two areas, one for the gentlemen and one for the ladies. An accessible toilet is located in the ladies' area and is provide with all the features to fit the needs of the person living with disability.
In the same area a baby changing area featured with WC and washing basin is available. Under the North and the South porticoes you can find the kitchen sinks and the laudry areas. A caravan and motor caravan shaft is also available.